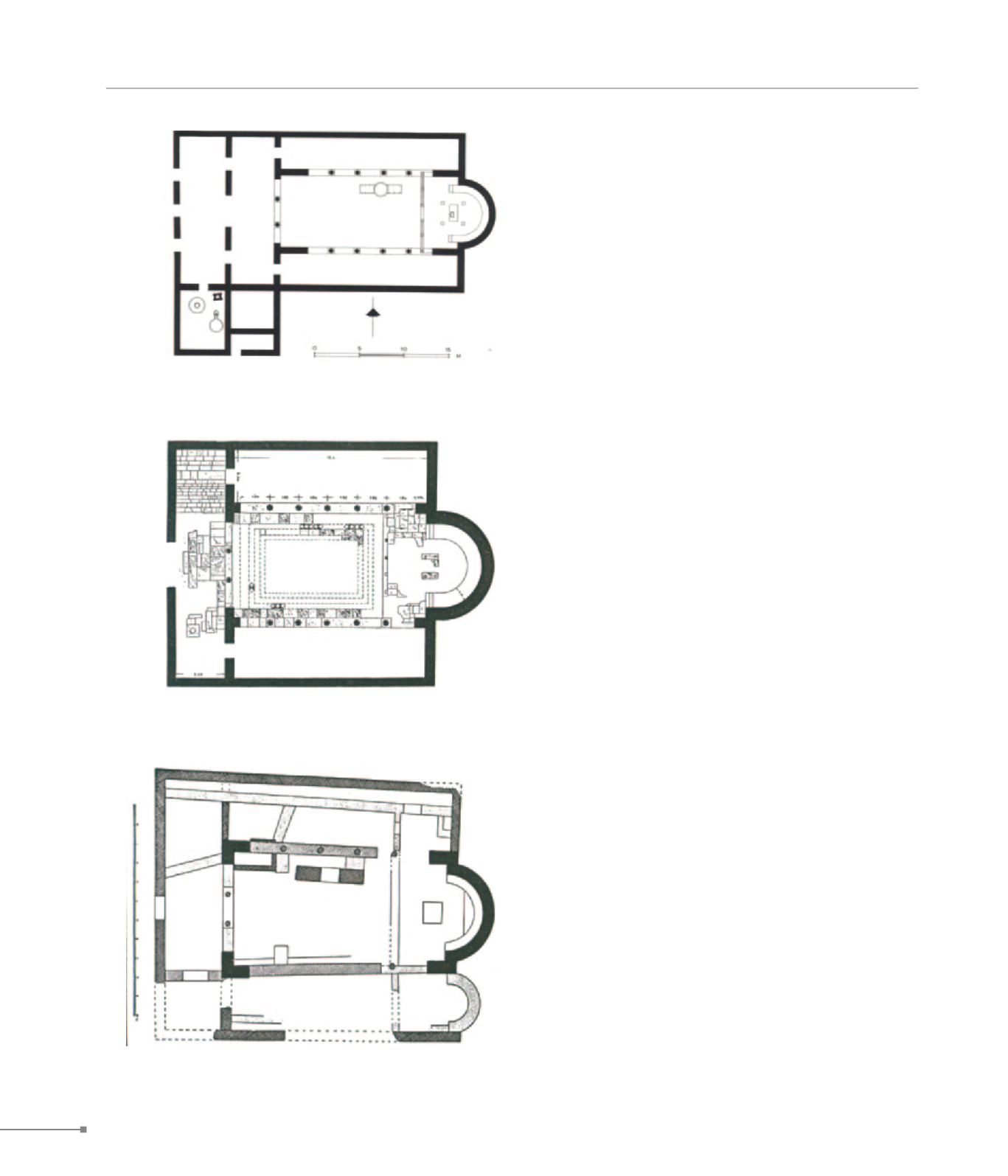 Saronikos.
Alimos.
254. Alimos, basilica, ground plan (Άλιμος, βασιλική (κάτοψη))
253. Glyfada, basilica, ground plan (Γλυφάδα, βασιλική (κάτοψη))
252. Olympus, basilica, ground plan (Όλυμπος, κάτοψη της βασιλικής)
251.
Saronikos.
The largest part of the triconch church of Aghios Demetrios Sa-
ronikos was reconstructed in the years of Turkish rule. The orig-
inal surviving parts are distinctive in their refined cloisonné ma-
sonry with some kufic ornaments, based on which the church
has been dated to the mid-11th c. The sole surviving scene
indicates that the church was decorated with wall-paintings to-
252.
Laureotic Olympus.
The basilica of Laureotic Olympus is among the most signifi-
cant Early Christian monuments in Attica. It is a three-aisled
church with double narthex and baptistery, decorated with mar-
ble sculpted elements and mosaic floors. On the bema mosaic
floor survives a votive inscription, while in the narthex an in-
scribed stele with the name of a deceased and the date 559,
before which the establishment of the basilica is placed.
253.
Glyfada.
Near the coast of Glyfada, the ruins of a three-aisled basilica
with narthex (5th c.) have been excavated. The colonnades
separating the aisles stood on a low wall. The narthex, the nave
and the bema were laid with marble slabs. The church was de-
stroyed in the 6th or 7th c. and reconstructed later as an aisle-
less church limited to the nave.
254.
Alimos.
In the area of Alimos a 6th c., three-aisled basilica with narthex
has been investigated. Just like the basilica at Glyfada, the col-
onnades separating the aisles stood on a low wall. In the nave
survives the base of the built ambo. Next to Zoodochos Pege
in Alimos, at former Trachones, a single-nave Mid-Byzantine
church has been excavated, featuring a side aisle and a narthex
that is connected with the nave through a tribelon.